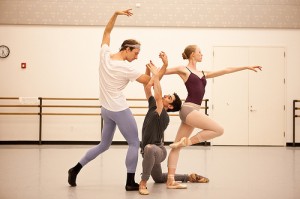 After the huge success of Saratoga Dances, the Dance Alliance has embarked on a new project, Saratoga Dances II. This evening length program will debut at the Zankel Center on Skidmore's Campus on Saturday, October 20, 2012 at 5:30 pm. It will include four pieces set against the center's dramatic background:
Reworking of NYCB's Justin Peck's THE ENORMOUS ROOM to live music
Full length APOLLO
Debra Fernandez' stunning SWAN SONG danced to live music composed by Richard Danielpour
NEW work by Justin Peck with costumes by NYCB's Andrew Scordato
The theme of the evening will be The Gardens of Yaddo and the spirit of artistic collaboration. We are grateful to be collaborating with Skidmore College to make this evening happen.
Tickets go on sale September 5, 2012, online at www.skidmore.edu/zankel $18 adults, $14 seniors, $10 students, $8 youth ages 12 and under.